High Efficiency Infrared Radiant Burner Gas Stove /Windproof Cooking System for Outdoor Camping Fishing
All-in-one design and pressure regulator valve make it becomes the top choice.
Made in special material to generate infrared function,it has no visible flame when burning,but the temperature is very high.
Powerful but release very low emission.It takes 1'35'' to boiling 0.5L water.
| | | | |
| --- | --- | --- | --- |
| Model Number | FMS-136 | Power | 1760W |
| Material | Aluminum , Stainless Steel | Volume | 1.25L |
| Pot diameter | Φ125x188mm | Weight | 302g |
| Open Size | Φ183×66mm | Weight | 326g |
– This compact stove is powered by infrared technology which is different from other traditional stoves.It transfers heat to the pot directly by infrared radiation.
– The stove is made of durable and corrosion-resistant metal material,it has no visible flame so it's windproof which enhances the heat efficiency,greatly saving the fuels and time.
– With the regulator valve design, it can control the gas flow and performs well in cold weather.
– Comes with a long gas hose ,it can be folded around the stove base to save space when you put inside the backpack.
– This foldable pot is made of hard anodized aluminum which is durable and scratch resistant.Comes with a neoprene sleeve to prevent the heat from lost efficiently.
– The heat exchanger system concentrate the heat when cooking, so it can improve 30% heat efficiency than other traditional pots.
– Equipped with a pot stand ,this infrared stove can be used for various pots or kettles to satisfy your cooking needs at outdoors.
– All these accessories can be put inside the pot,the handle folded over the lid tightly,and won't worry the things will fall out from the pots.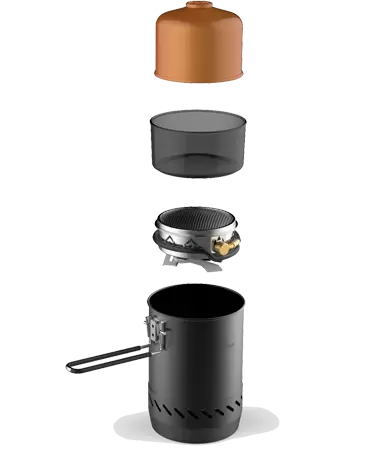 Yes,this infrared stove includes a 1L heat exchanger system pot.Also it comes with a pot stand,so it can fit for other sizes of the pots and kettles.
The traditional cookers always get the heat by fire,but this stove is through infrared radiation to transfer the heat to the pot directly .So there is no flame when burning.
Yes,all the accessories can be put inside the pot together with a 230g gas canister.So it's very easy to carry out inside your backpack.
You can use many types of the gas canisters as long as it complies with EN417.