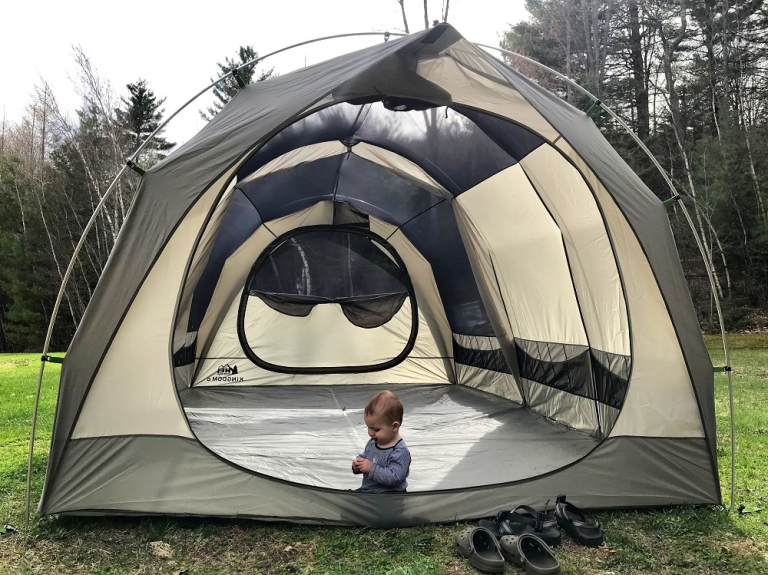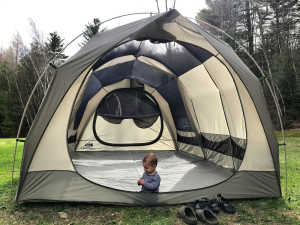 Many new parents look forward to introducing their children to the wonders of nature. Even seasoned campers may find the idea of camping with a baby. Here are some ideas for having fun when camping with your baby:
Choose the right location:
Choose a location that isn't too far from home and has some basic facilities, such as a bathroom, for your first expedition. And, if possible, select a shaded campground that isn't too near to other people.
Bring a large tent:
Bringing a large tent allows you to spread out and even set up a portable crib/play yard if you have one. Most importantly, strive to be adaptable and recognize that your nights will most likely differ from those at home.
Keep baby's meals simple:
Breastfeeding is the simplest method, but you can still go camping if your kid needs a bottle or eats solids. If your baby is already eating solids, make sure you have access to clean water for mixing formula, and try easy squeeze packets of pureed food or maybe some of what you're having for dinner.
Protect yourself and your baby from bugs and sun:
mosquito repellant and sunscreen are usually not suggested for newborns under 6 months old, so search for other ways to protect your baby, such as wearing long sleeves and pants, using an umbrella to block the sun, and wearing a mosquito net.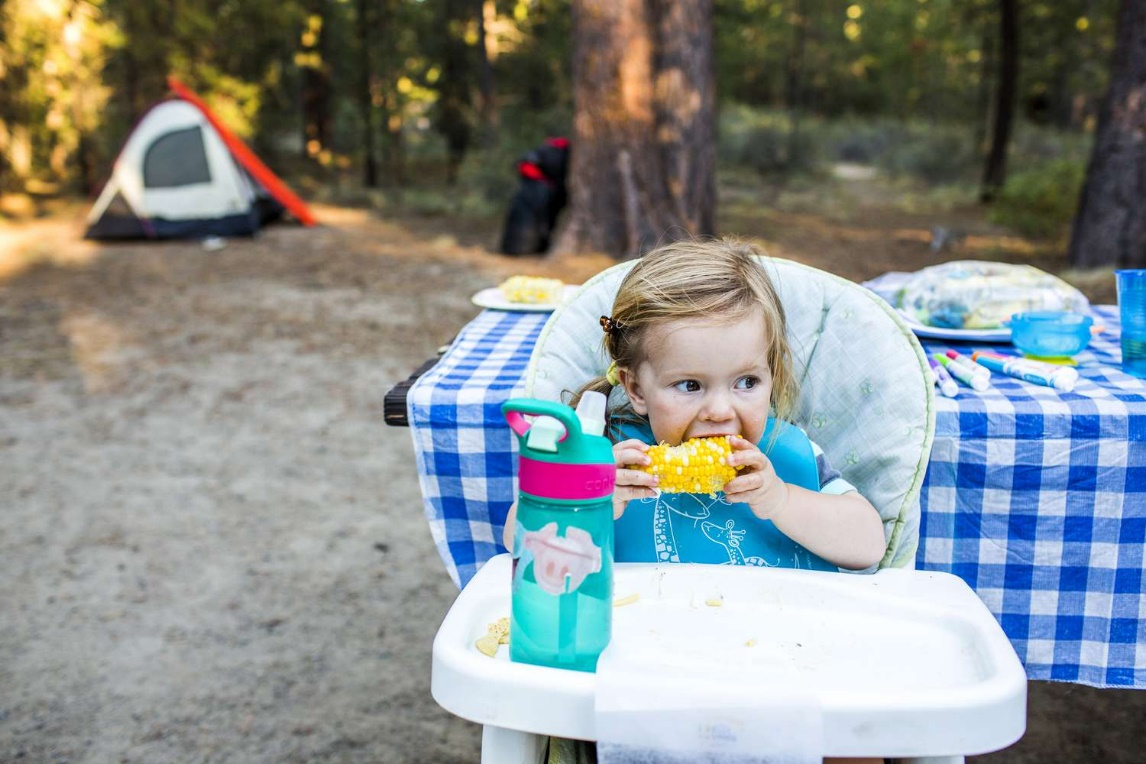 Meal Planning for a Baby
To plan meals for your infant, start with what they eat at home; you should be able to keep quite close to that. If they're nursing, the cuisine is really basic. If your baby drinks from a bottle or eats solids, you may still go out into nature with a few extra precautions:
Keep things clean:
Make sure you have a means to keep everything clean if you're bottle feeding. You may disinfect your bottles by boiling water at your campsite. Make sure you have access to clean, drinkable water if you're preparing a formula.
Bring convenient foods:
If your kid is consuming solid foods, there are choices such as squeeze packets with pureed fruits and veggies that do not require refrigeration till opened. An older child can put one of these in their mouth, but if you have a really little child, you can squeeze small quantities onto a spoon and feed it to them. If your infant is old enough, try soft fruits, scrambled eggs, avocado, and beans as finger meals.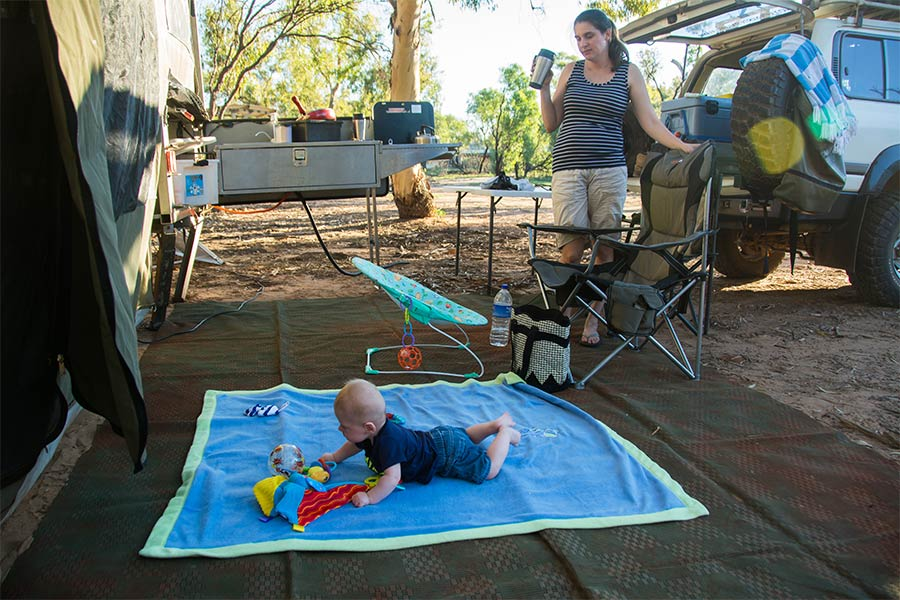 Where to Go Camping with a Baby
Many of the sites you'd consider camping as an adult are also suitable for bringing a newborn. State parks, national parks, and private campsites are all viable alternatives. Here are some pointers to consider when you limit your options:
Limit driving time:
If the prospect of camping with a newborn seems daunting, don't add a long vehicle drive to the mix. Choose a campground near home for your first family excursion to avoid the stress of travel. You won't have to get up very early to go to your location, and if things don't go as planned while camping, you can call it a day without wasting hours of driving time. Set up the tent in your garden to give family camping a try merely steps from your house if you want to avoid driving entirely.
Choose campsites with amenities:
A campground with a restroom and a playground nearby is probably not your idea of a real wilderness adventure, but they may be quite useful with a baby in tow, especially on your first or second expedition. When you feel more at ease camping as a family, you may venture further out.
Seek shade:
Keeping children out of direct sunlight is an important step in protecting them from UV radiation, so choose a dark area if possible.
Tips for Sleeping in a Tent with a Baby
Getting a good night's sleep with a small infant at home might be difficult enough. With all the newness of a camping vacation, you and your child are likely to be up a few more times during the night than normal. Take it all in stride (and carry some extra coffee for the morning).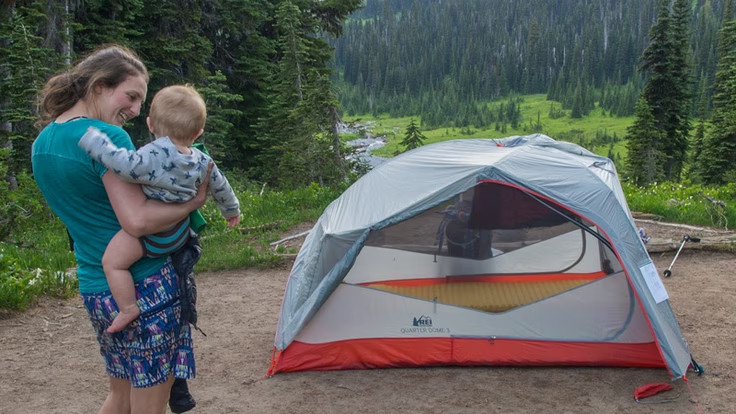 Here are some tips for handling sleep while camping:
Be flexible:
Try to be adaptive and recognize that you may need to discontinue any sleep training tactics you've been doing at home in order for you and your kid to get through the night. For example, you may need to let your child to remain up longer than usual until it becomes dark, or you may need to breastfeed more frequently in the middle of the night for comfort.
Bring a big tent:
If you have a large family camping tent, bring it with you. You'll like having more room to spread out and relax. A large tent also allows you to use a portable crib/play yard.
Bring a few favorites from home:
Almost everything in the outdoors is a toy to your child, so don't feel obligated to bring everything from home. Packing a few unique items, such as a teddy animal and some books, will help your infant adjust to the new surroundings.
How to Dress Your Baby for Camping
Follow these wardrobe ideas to make your young one happy on your camping trip:
Dress baby in layers:
Consider what layers you can carry for your infant, just like you would for yourself so that you can adjust to changing weather. You'll need a base layer adjacent to your skin, a middle layer for warmth, and an outer layer for wind and rain protection.
Don't overdress:
For added warmth while sleeping, add a sleep sack or fleece bunting. However, avoid overdressing your child. It's easy to pile on clothes out of worry that he or she may get cold at night. Check the prediction for low temperatures and consider how they relate to the temperatures in your home, then alter your baby's attire accordingly. With time, you'll learn how many layers your infant requires to sleep comfortably at night.
Diaper per usual:
Diapering your baby while camping doesn't have to be drastically different from what you do at home, especially if you have a bathroom nearby to dump waste and dispose of diapers. If you use cloth diapers at home, you don't have to abandon that while outdoors. Bring along an airtight bag for stowing dirty cloth diapers until you get home where you can wash them. A portable changing mat gives you a place to put your baby down for diaper changes, but you could also use a sleeping pad or blanket.