Ultralight Titanium Heat Resistant Portable Wood Burning Stove for Hiking Picnic
Titanium Wood Burner made of high-quality titanium.The feature of titanium is ultralight, durable, never rust,anti-corrosion.
Titanium Wood Stove can be high resistance to extreme high temperature.Long service life.You can safely choose our products without worrying about quality.
Model Number
DM-S002
Material
Titanium

Size

Open:Φ150*165mm

Close:Φ125mm*130mm

Finish

Sanded surface

Weight
381.1g
Color
Gray
Logo
Customized
Package
Meshbag&colorbox
The hole at theTitanium Wood Stove bottom is designed to effectively promote internal air circulation and fuel combustion more fully. Effective combustion efficiency reduces cooking time.
No heavy fuel tank or alcohol fuel is Titanium Wood Stove required. This wood stove mainly uses branches, leaves and wood as burning materials. Field use is very simple and convenient.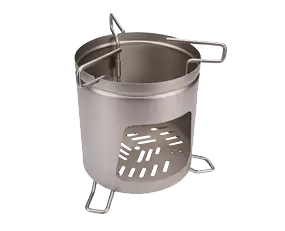 Our designers can provide new product renderings or drawings based on your ideas and requirements.
Usually sent it 7-15days after your payment.
When camping, you can heat the cup directly over an open fire.
We have LFGB & FDA approval on the Titanium utensil , there's no odor or taste to the food.
Due to the particularity of titanium material, after cooking with open fire, the outside of t the surface of the Titanium stove (cookware/cup ) will burn black, which is a normal phenomenon, and it will be timely after each useScrubbing with detergent and a rag will help.