Portable with Stand Titanium Outdoor Wood stove for Camping
Titanium Wood Burner made of high-quality titanium for long service life base on ultralight, durable,anti-corrosion from acid and alkali.High resistance to extreme high temperature.
This wood stove is super portable. It can be assembled in seconds, no tools required, space-saving, easy to carry and store.won't take up the backpack space, special treatment is suitable for personal hiking.
Model Number
DM-C003
Material
Titanium
Size
Open:Φ166x160mm

Close:Φ123mmx130mm

Finish
Sanded Surface
Weight
149.3g
Color
Gray
Logo
Customized
Package
Meshbag&colorbox
The bracket of the Titanium Wood Burner can be folded, stable and not inclined to adapt to the use of more regular products.
Bottom ash tray, so that the fuel will not fly everywhere, so that the cooking environment is more clean.
Titanium Wood Burner Large opening design makes it easy to add fuel at any time.
The wave-shaped non-slip fixing stand and the three-legged design at the bottom provide a stable support for the Backpacking Wood Stove and ensure your safety in use.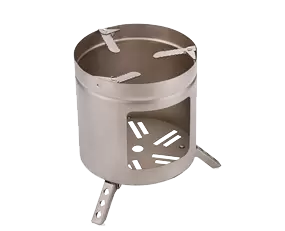 Titanium will oxidize in contact with ceramics, so that the ceramic surface will leave traces similar to pencils. This is a reaction between substances and does no harm.
Orange peel texture is the natural grain of titanium plate when it is formed. It is deep and shallow, which is the own characteristic of titanium material itself.
Use regular detergent when cleaning, avoid using hard objects (such as steel ball) rub
Due to the particularity of titanium material, after cooking with open fire, the outside of t the surface of the Titanium stove (cookware/cup ) will burn black, which is a normal phenomenon, and it will be timely after each useScrubbing with detergent and a rag will help.