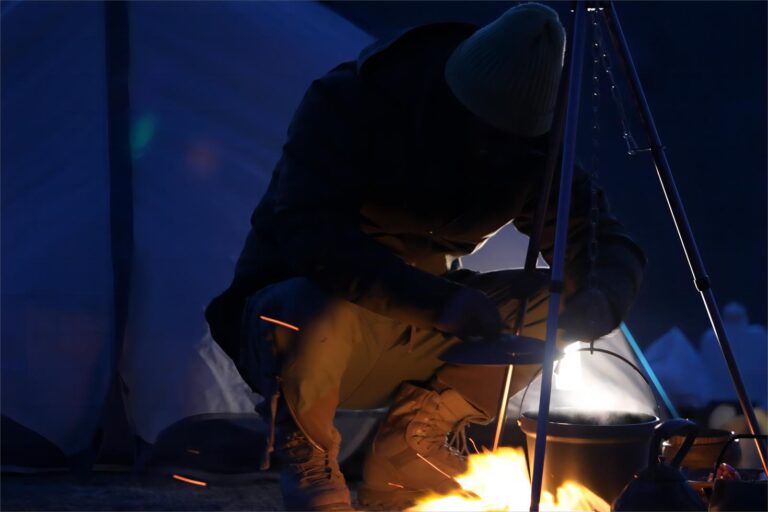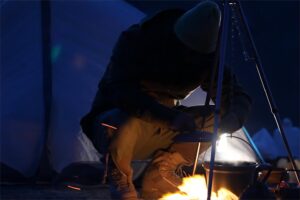 A hot tent is not suitable for everyone. If your primary purpose is summer camp, there are other shelters that might be more suitable. However, if you enjoy being outside during the winter, a hot tent might be useful.
Hunting is a perfect fit for a hot tent. Consider this: a hunter MUST be out there during the legal hunting season, rain or shine. There are plenty of dark hours in the tent before bedtime
during the fall hunting seasons because of the short daylight hours. You can create lifelong memories by gathering around a stove and sharing tales from the day.
Winter camping can be much more fun with the use of a hot tent. Amazing hunting tents can also be made from them. This frequently means rising before dawn, staying out until after dark, and arriving at the tent frequently cold, wet, and hungry. A hunting trip can make or break if you can look forward to a wood fire rather than a soggy, chilly night. This seems so adventurous and fun.
What is a Hot Camping Tent and what is it Made of?
The winter tent and heated tents are the perfect heat source for many seasonal campers, as they have designated stoves along with some heat-trapping materials mainly used in the winter to provide sound sleep and quality time. They usually come in variations, from compact designs for soloists to larger hot tents for groups.
The main features are:
Tent Body
Stovepipe Jack
Stove or Heater
Guy Lines and Stakes
Materials
Canvas retains heat well and is incredibly durable, making it a popular material for the tent floor. Canvas hot tents are renowned for their extended durability and resilience to damage.
Nylon tent's interior lining is usually made of nylon. lightweight and provides an additional layer of insulation. The tent's interior experiences less condensation thanks to the use of nylon.
Aluminum or steel frame The tent frame, usually made of them, provides the necessary structural support for the tent and prevents drifting away by wind.
Pros And Cons of Hot Tent
Like most things, there are advantages and disadvantages to the various kinds of hot tents.
The Benefits
Many campers who are looking for the most comfortable experience of winter camping opt for this.
First of all, it works well for outdoor family camping. Taking kids camping in the winter is a huge challenge because of their increased vulnerability to the cold. There is always a warm home base when you camp in a hot tent. That would be a great reward if you were planning a hike on a chilly winter's day.
Additionally, wood stoves have a certain aesthetic that is not possible with conventional space heaters. You get a real sense of being in the woods when you smell the burning wood. You can also fall asleep to it quite well. The fact that hot tents are typically far roomier than the majority of regular camping tents is another advantage.
Furthermore, the wood stove is ideal for cooking, so you will not even need to bring a gas or propane stove!
The Disadvantages
Even though using a hot tent for camping in the winter is fantastic, getting the tent to the campsite can be difficult. You will also need to plan on using a hot tent well in advance of the actual camping trip because building them typically calls for the assistance of one or more additional people. Although traditional fabrics like canvas are very heavy and difficult to set up, they are very durable.
Furthermore, hot tents cost a lot more than standard camping tents. Purchasing a hot tent is only a good idea if you truly intend to go winter camping frequently, as the wood stoves for these tents are typically sold separately as well.
Safety Tips for Hot Camp Tenting
There are a few risks associated with sleeping in a tent near a fire:
The two main ones are carbon monoxide poisoning and the possibility of your tent catching fire. Even though these kinds of things do not happen very often, it is still important to take safety precautions.
Never go to sleep with the stove on when you are by yourself. Prior to going to bed, make sure the stove's pipe is operating properly so that fumes can escape upward and that the fire is completely out.
Make sure the stove is put together properly. Furthermore, pay attention to how the wind affects a hot tent; high winds have the potential to distort the walls of the tent and come into contact with hot stove parts. Keeping a knife close at hand is a smart move in case you ever need to cut yourself.
The benefit of traveling light and quickly when "cold camping" in a regular mountain tent is offset by the long-lasting warmth and comfort of utilizing a hot tent.
Not to mention that it makes the entire winter experience better by letting you enjoy the peace and quiet of the season away from the crowds.
For those who love the outdoors, it is a rare chance to enjoy a season that not many get to enjoy. Happy tenting!
People Also Ask
What is the difference between the hot tent and a regular one?
Regular tents are for general camping purposes and are not equipped with any heating source inside them, while hot tents are specifically for chill-weather camping stays and usually have a wood stove setup with them. Their robust canvas bodies provide perfect insulation and durability, while regular tents are mainly made from nylon or polyester for fair weather conditions. Hot ones minimize condensation, while regular ones may experience condensation in cold weather.
Can you use the hot tent in the summer?
You can never use a hot tent in summer, as they are specifically designed for winter camping. They trap the heat and make it uncomfortable for you during summer adventures. Using a stove inside the hot tent in summer can pose serious fire alarms.
Do hot tents stay warm?
Yes! No doubt, these tents are made of insulated material to make them cozy and warm, but the temperature inside falls off as soon as a fire starts dimming in the tent. A good quality wood stove can keep the fire burning for as long as 3 to 4 hours, not more than that.