What is a Survival Stove?
As the name suggests, a compact and portable cooking device designed to operate in diverse environments, from the great outdoors to emergency situations. Its primary purpose is to provide a reliable source of heat for cooking meals, boiling water for purification, and even generating warmth in cold conditions pretty good. For those who value self-sufficiency and preparedness, these tools are heavenly bliss for them.
In the following sections, we will explore the different types of survival stoves available, their advantages, and the criteria for choosing the right one to suit your needs.
The Best Portable Survival Stove
Criteria for Evaluating Portable Survival Stoves
When searching for the best portable survival stove, several criteria should guide your decision. These criteria ensure that your chosen stove meets your specific needs and performs reliably in the field.
Top Features to Consider
Weight and Size: The weight and size of your stove can significantly affect your mobility. Lightweight and compact canister stoves are favored by hikers and backpackers.
Fuel Efficient: A fuel-efficient stove can make a substantial difference during extended outdoor trips, allowing you to carry less fuel and travel farther.
Durable: Outdoor conditions can be harsh, so the more durable the better. Look for stoves built with high-quality robust materials that can withstand rugged environments.
Ease of Use: In stressful situations, you'll appreciate a stove that's easy to set up and operate.
Temperature Control: Some stoves offer precise temperature control, allowing you to simmer or boil with ease.
Our Upgraded Picks
Let's explore some of the top portable survival stoves available in our catalog, each offering unique advantages for different outdoor scenarios.
FMS-116 Lightweight Hiking Backpacking Gas Burner
Key features
Featherlight Design: Weighing in at just ounces(73g), this gas burner won't weigh you down on the trail, ensuring your hiking experience remains enjoyable and hassle-free.
Powerful Heat Output: Despite its small size, our burner with a heat efficiency of 3000w delivers a robust flame that rapidly boils water and cooks meals, saving you valuable time and fuel.
Precision Control: With an adjustable flame knob, you can fine-tune the heat to suit various cooking needs, from simmering delicate dishes to rapid boiling.
Efficient Fuel Consumption: Our unique technology maximizes fuel efficiency, allowing you to carry less fuel while enjoying longer cook times.
Reliable Ignition: The built-in piezo ignition system ensures reliable and effortless lighting, even in adverse conditions.
Benefits:
Compact and efficient reduces the burden of carrying heavy fuel canisters enabling you to explore farther and longer.
Enjoy quick, hot meals on the go, saving precious time during your outdoor gathering.
With precise heat control, you can cook gourmet meals even in the wild.
Plus, our reliable ignition system guarantees hassle-free starts, no matter where your adventures take you.
FMS-103 Windproof & Lightweight Propane/Butane Hiking Stove
Windproof Design: Boasting three integrated windshields, this portable stove excels in windy conditions, ensuring maximum heat efficiency.
High-Powered Performance: Featuring a flat burner top, it delivers a robust and consistent 3000-watt flame, capable of boiling a liter of water in just three minutes and 30 seconds.
Built to Last: Crafted with a durable stainless steel wire adjustment rod and a CNC-cut brass valve, this stove is designed to withstand high temperatures and wear.
Stainless Steel Strength: The inclusion of stainless steel enhances the stove's longevity and resilience, making it a reliable companion for your outdoor adventures.
Secure Cooking: The tooth design bracket keeps your cookware securely in place, guaranteeing a safe and hassle-free cooking experience.
Convenience in Every Fold: Its compact and easy-folded design makes it a breeze to carry, effortlessly fitting into the side pocket of your backpack.
Essential Outdoor Gear: Whether you're a backpacker, camper, trekker, or mountaineer, this stainless steel lightweight camping gas stove is a vital addition to your outdoor equipment. Elevate your outdoor cooking experience with this reliable and practical gear.
FMS-117T-1 Portable Titanium Remote Gas Burner for Outdoor Camping
Ultra-Light Titanium Build
Crafted from durable titanium, this camping gas burner weighs just 98g, making it the ideal choice for your outdoor adventures.
Powerful 2800W Burner
With its high-performance 2800W output, this portable stove boils 1L of water in just 3 minutes and 25 seconds, ensuring efficient cooking.
Stability on Any Landscape
Designed with a low gravity center, this stove remains steady even on uneven surfaces, ensuring a safe cooking experience in the great outdoors.
Group-Friendly Cooking
Perfect for group trips, this stove accommodates larger cookware, making it a convenient choice for meals with family or friends.
Quick and Comfortable Dining
Whether you're picnicking or backpacking, enjoy quick and comfortable meals with this efficient and lightweight camping gas burner.
Stainless steel or Titanium choice is Yours "Both make the Strom!"
For further best categories of stoves Click Here
Deer Tip:
"Stay self-sufficient with camp stoves in your emergency plan."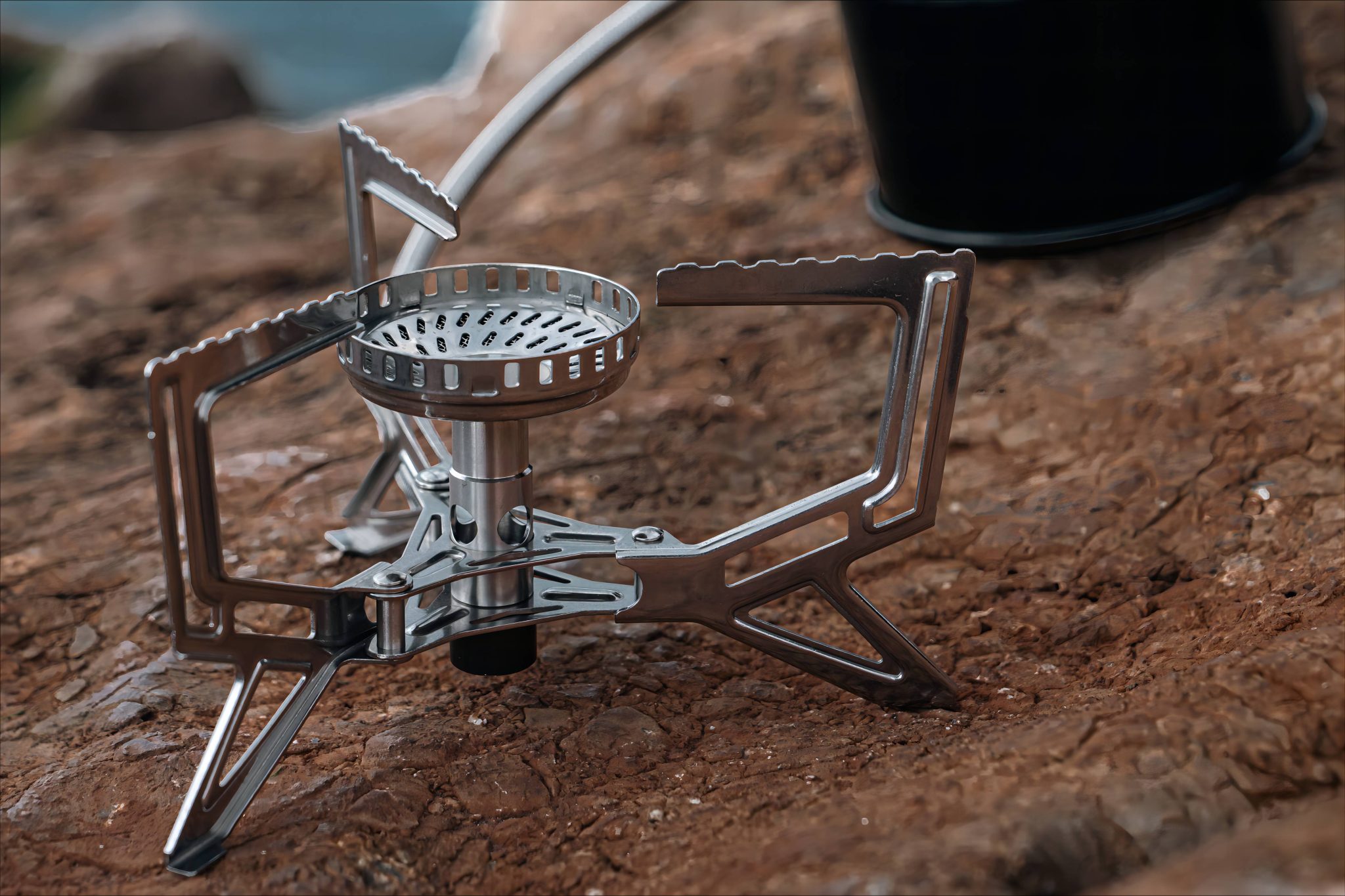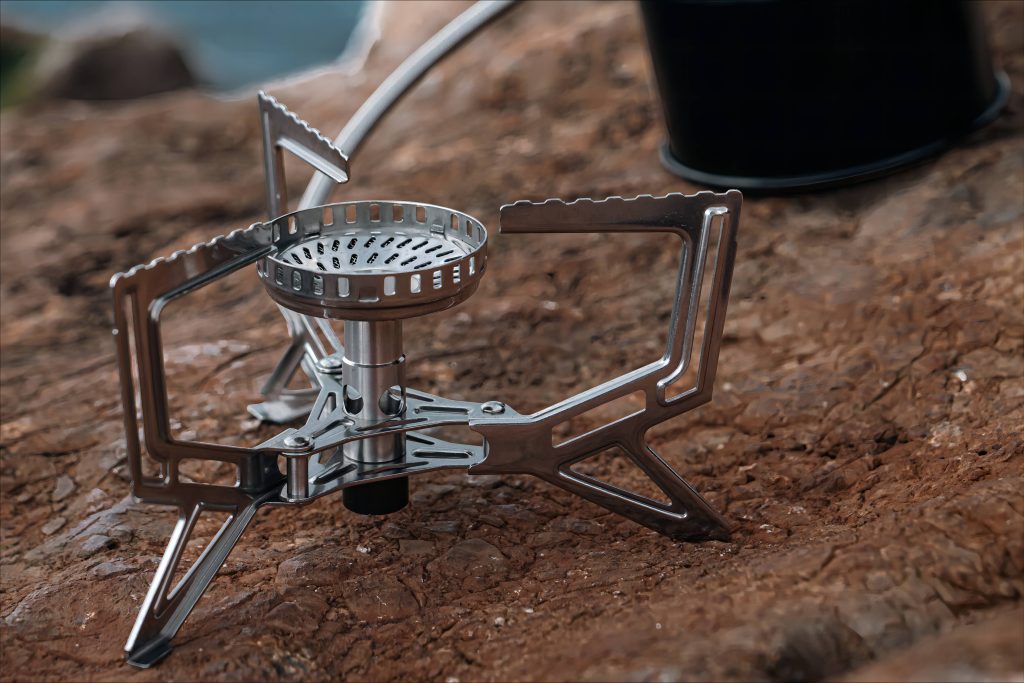 Types of Survival Lightweight Stoves
Solid Fuel Stove
use compact, pre-packaged solid fuel tablets or cubes to generate heat.
lightweight, easy to applicable, and have longevity.
suitable for emergency situations. Examples include Esbit stoves and hexamine tablets.
Alcohol Stove
Often referred to as spirit stoves, burn denatured alcohol or similar fuels.
Lightweight, compact, and simple to operate.
Alcohol stoves are popular among ultralight backpackers and long-distance hikers due to their efficiency and ease of carrying fuel.
Wood-Burning Stove
Designed to burn small sticks and twigs efficiently.
Provide a renewable fuel source in forested areas.
Suitable for extended outdoor trips.
Many wood-burning stoves have built-in fans or blowers for improved combustion.
Multi-Fuel Stove
Versatile options that can burn various types of liquid fuels.
Use white gas, kerosene, unleaded gasoline, and diesel.
Popular for international travel and expeditions where fuel availability can be uncertain.
Propane or Butane Stove
Propane and butane stoves are compact and easy to use.
Typically used with disposable canisters, making them convenient for short camping trips and emergencies.
Backpacking stoves often use these fuels due to their efficiency and ease of operation.