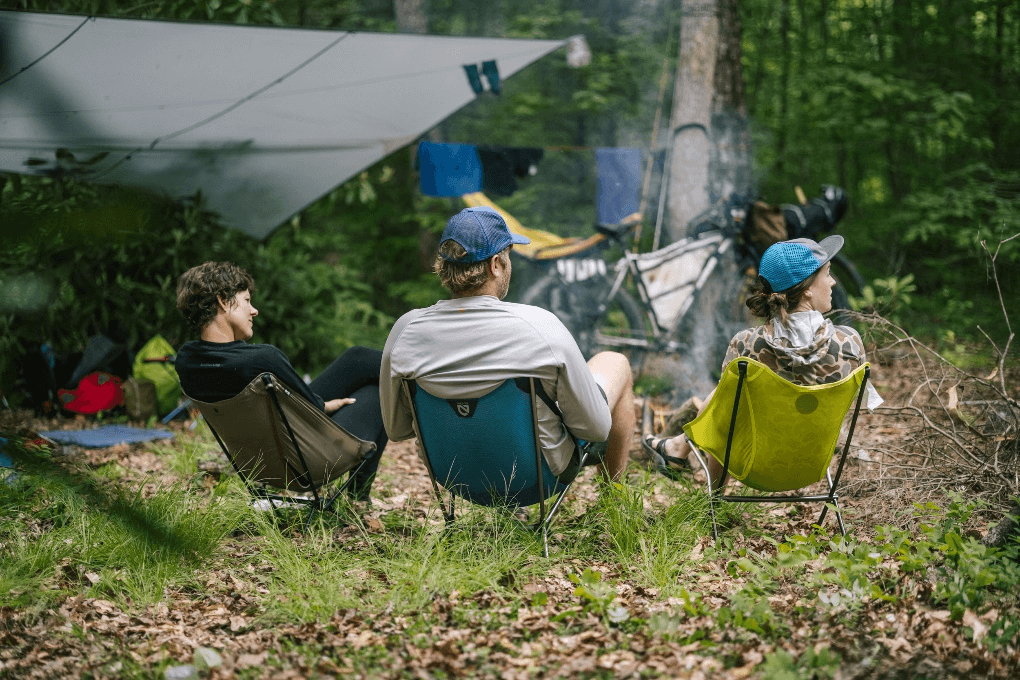 The best approach to storing foldable chairs will keep them in brand-new condition and ready for use the next time you need them. One of the most important things to remember is how to store your bag chairs, whether getting ready for the season ahead or cleaning up from the one that just finished. Whether you're a seasoned camper or a novice, the easiest way to maintain your camping chairs in good condition for many years of usage is to store them correctly. Additionally, a high-quality camping chair is expensive, so you do not want to purchase one every few years.
We'll cover all you need to know about maintaining the pristine appearance of your camping chairs in this post.
Garage camp chair storage ideas
The Coat Tree Method
To store your camping chairs organized, off the garage floor, and in a way that they don't take up much space in your garage, invest in a strong coat tree with hooks on all four sides. Finding one that can support the weight of several camping chairs without toppling over is important.
The Pegs Method
A few rows of pegs, the type that you use to hang your coats or baseball caps, can also be utilized to keep your camping chairs in your garage. This idea is similar to the coat tree method. The chairs can be easily reached for those last-minute bonfire parties, soccer practices, or weekend camping vacations and will remain out of the way and off the ground.
The rafter Method
To create a platform for storing various goods, such as camping chairs, you may put a sheet of plywood over the rafters. This is an excellent way to organize and store all of your camping gear, including your tent, air mattresses, and sleeping bags, in a convenient location. The goods are not particularly accessible, even though keeping your camping chairs and other gear in your garage rafters is an excellent way to save up room in your garage.
A Simple Shelf Method
Your foldable camping chairs may be hung, but you can also put them on a shelf.
There are so many shelving solutions for garage storage available nowadays that your garage may already have more than enough shelves. Your camping chairs may easily be placed on a shelf.
Storage Bin
Camping chairs can be kept in a plastic storage container conveniently and economically. It offers enough room for chairs of various sizes to be stored while protecting them from the elements including dust, moisture, and insects. Plastic storage bins are the best option for maximizing storage space, whether at home or camping, due to their stackable structure and simple mobility.
Try 55 Gallon Drum
Build a creative storage solution for camping chairs out of a 55-gallon barrel. Put your folded chairs in the drum and you can simply reach them anytime you want to rest by the fire.
Wall Mount Holder
Four hooks and floating shelves are included with this rack for camping chairs. It converts the empty wall space in your garage into a neat chair storage area.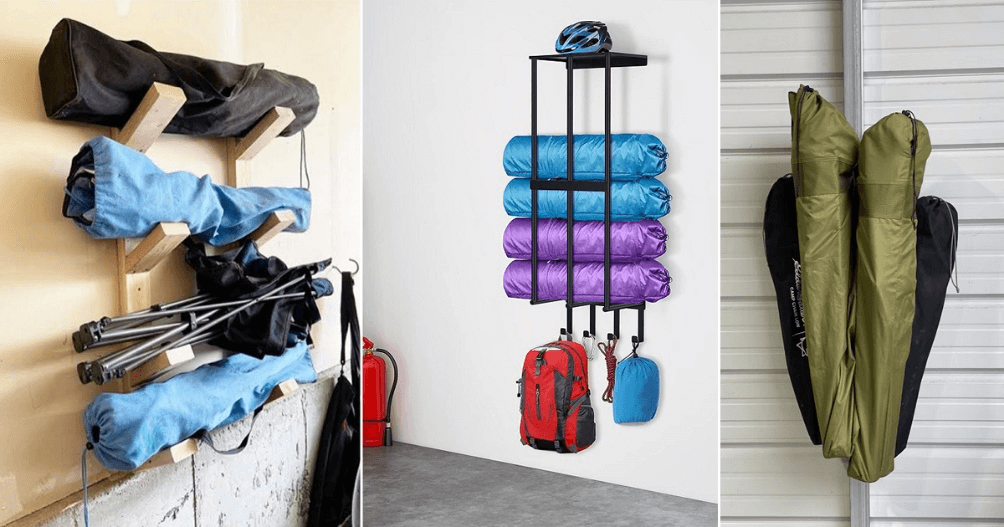 DIY Camping Chair Storage
PVC Pipe
This setup keeps your chairs safely kept and easily reachable. It is made of 10′′ PVC. It's a cost-effective strategy that also excels in durability and resistance to different weather conditions.
Wooden Chair Storage Rack
One of the greatest camping chair storage solutions is this wooden rack, which is inexpensive and simple to construct. It offers a natural look to your garage or campsite in addition to neatly arranging your camping chair.
Stacked Storage System
This stacked storage system is an excellent option when there is a shortage of floor space. This design, which is made of wood and screws, not only makes things simple to access but also makes the space look neat and attractive.
Rope or Wire
To recreate this excellent camping chair storage hack, use a rope or wire. This efficient storage method not only keeps your chairs in place but also prevents them from tipping over.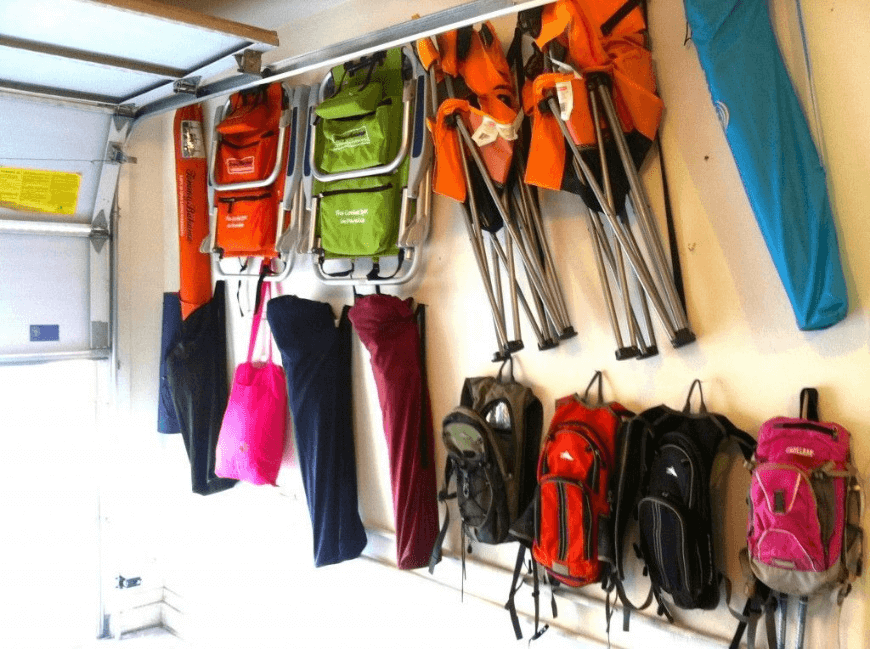 Camp chair storage bags
If you want to protect it against damage or dust when storing your camping chair. Use storage bags of the following types:
Zip Storage Bags:
Purchase zip storage bags made from long-lasting materials such as polyester or nylon. These bags are used for storing camping chairs of standard size.
Roll-up Storage Bags:
These bags are ideal for storing chairs. They consist of adjustable straps which fix the chair tightly in the storage bags.
Padded Storage Bags:
These bags contain an extra layer of foam that protects the camping chair from any kind of scratches and bumps.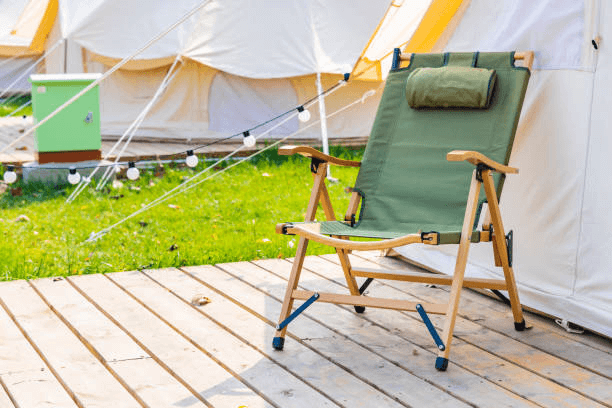 Folding Camp Chair Storage
Folding chairs come in different shapes and sizes and each design required different storage. We have provided some techniques for storing different types of folding camp chairs:
Director's Chairs:
A director's chair is a lightweight chair that can be folded in half using scissors action. The frame consists of wood, often metal or plastic, and the seat and back are made of canvas or a comparable sturdy fabric that can withstand the entire weight of the user and be folded. Director's chairs have a separate backrest and a flat-folding design. These chairs are kept on a chair shelf.
Quad Chairs:
The ideal way to store quad chairs, which have a foldable frame and a cloth seat, is to fold them flat and stack them on top of one another. The comfort and style of quad chairs make them perfect for camping.
Reclining Camp Chairs:
Chairs that recline could have a complex folding system. Fold them correctly and store them upright, according to the manufacturer's recommendations. Your outdoor experience will be enhanced by reclining camp chairs that have many positions for relaxation, rest, and recuperation.
Conclusion
No matter the size or shape of your preferred camping chair from small, lightweight foldable chairs to large, heavy chairs proper storage is important.
To keep your chairs dry, spotless, and prepared for the upcoming season, use one of the above ways.