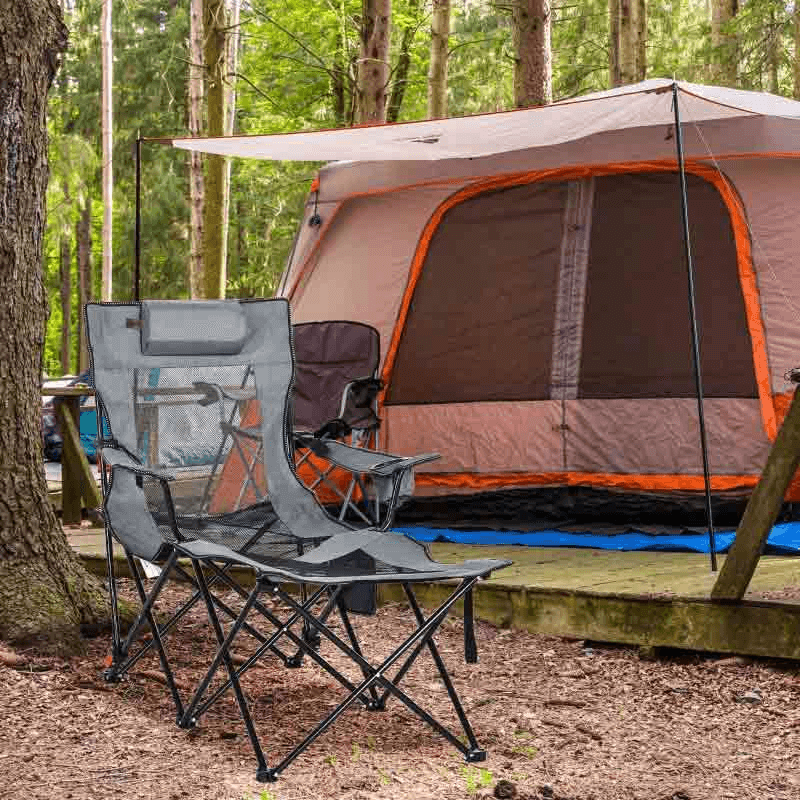 Camping helps us to reconnect with nature, unwind, and build long-lasting memories. Many campers use foldable camping chairs to make their trip more fun and comfortable. Because these compact and adaptable chairs come in a variety of forms and sizes, it's critical to understand the measurements and how they might affect your camping experience. We will look at the dimensions of foldable camping chairs in this post, including their size, weight capacity, height, and mobility.
Size Matters
The size of a foldable camping chair is an important consideration since it impacts how comfortable you will be when seated. Most camping chairs are designed to fold up small and easily transportable. When unfolded, however, the dimensions might change significantly. Camping chairs are often classified into three sizes:
Compact Chairs, Standard Chairs, Oversized Chairs:
Weight Capacity
Another important factor to consider is the foldable camping chair's weight capacity. Different chairs are designed to carry different amounts of weight, and exceeding these limitations can lead to chair failure and discomfort. Depending on the design and materials of the chair, the weight capability might range from 200 to 400 pounds or more.
It is critical to select a chair with a weight capacity that meets your requirements. If you are a larger person or want to use the chair for hobbies that need continual movement, such as fishing, it is best to choose a chair with a higher weight capacity to ensure your safety and comfort.
Seat Height
Another essential component to consider is the seat's height from the ground. Camping chairs come in a variety of seat heights, and your decision can have a significant influence on your comfort. The three main seat height categories are as follows: Low Chairs, Standard Height Chairs, High Chairs:
Portability
Portability is an important factor, particularly if you need to transport your camping chair across long distances or isolated camping locations. The weight of the chair, its foldability, and the availability of a carrying case or bag are all important aspects of mobility. Lightweight chairs constructed of aluminum or lightweight steel are perfect for hikers and backpackers. They are lightweight and may be connected to a backpack or carried independently. Furthermore, the convenience with which a camping chair folds and unfolds may make a significant difference in how easy it is to move.
Look for chairs with a simple and efficient folding mechanism that doesn't require the use of tools or a lot of work. Many camping chairs come with carrying cases or bags, making traveling easier. These cases not only preserve the chair during transportation, but they also allow you to carry it more easily, either over your shoulder or linked to your backpack.
Once you've determined what you're searching for, check our camping chairs mentioned below to locate the ideal camping foldable chair:
600D Oxford Lightweight Foldable Aluminum portable camping Moon Chair for backpacking and hiking
The fabric of this lightweight chair is breathable 600D Oxford Cloth. It gives you a comfortable sensation when you sit on it.
The support legs are made of 7075 aluminum, which gives a high level of stability and durability when utilized outside.
This lightweight metal folding chair folds into a little component that is small enough to fit in your backpack.
It weighs 900g, which is the same as a bottle of water, making it an excellent choice for trekking.
This chair is easy to put up and fold down. You can complete the assembling procedure quickly and easily.
The foldable chair is suitable for both outdoor and indoor use.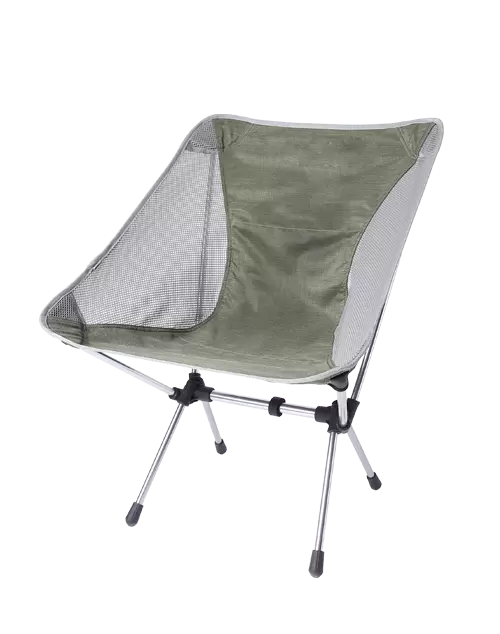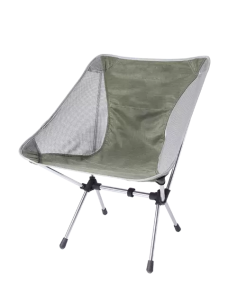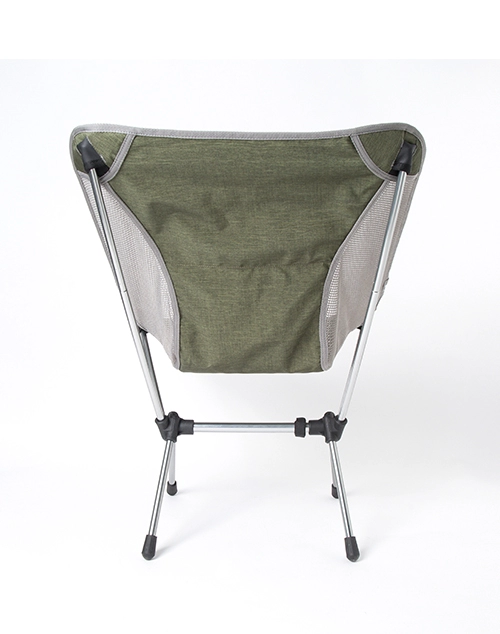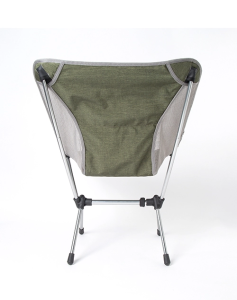 | | | | |
| --- | --- | --- | --- |
| Model | BD12022116 | Bracket Material | 7075 Aluminium |
| Unfold Size | 35*50*66cm | Fabric Material | 600D Oxford Cloth |
| Fold Size | 35*8*8cm | Weight | 900g |
Aluminum Folding Chair for Outdoor Picnic Camping Fishing
The robust tubes and high-density polyester fabric of this high-back folding chair with armrest assure long-term use.
The X-shaped frame allows this armrest camping chair to be opened in a matter of seconds.
The armrest and supporting tubes are composed of strong strength aluminum alloy, and power painting helps to provide a tidy and attractive appearance.
The raised back of the armrest folding chair allows you to comfortably lie your upper body down, and the padded headrest provides relaxation when you take a break.
The high-back camping chair is strong enough to withstand the strain; it can support a maximum weight of 100kg.
This lightweight camping chair folds up quickly into a small and travel-friendly size.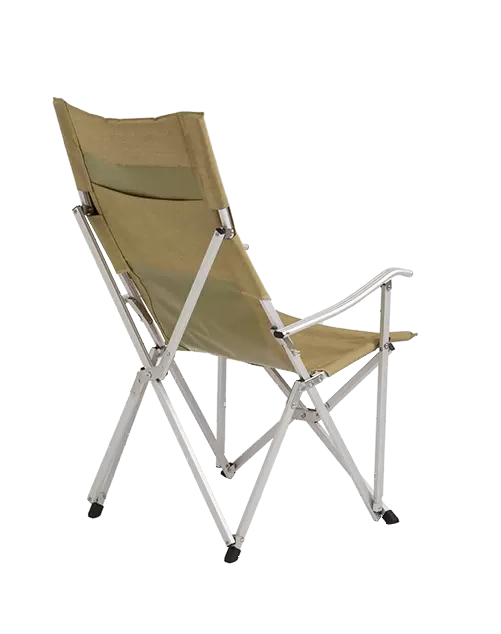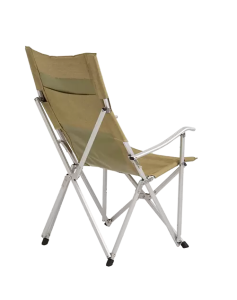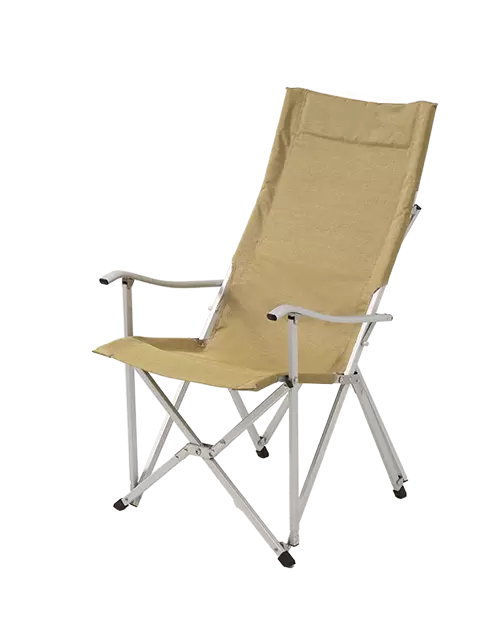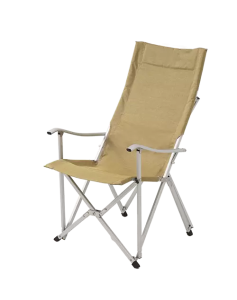 | | | | |
| --- | --- | --- | --- |
| Model | HL01005 | Fabric Material | 100% Polyester |
| Bracket Material | Aluminum alloy | Color | Fennel Green, Khaki |
| Unfold Size | 58x73x98(h)cm | Fold Size | 11x15x116(h)cm |
| Weight | 3.61kg | Static Bearing | 100kg |
Outdoor Folding Furniture Backpacking Wood Chair
Chair seat and back are constructed of 1000D double-sided nylon fabric, which is wearable, breathable, and simple to clean.
Folding chair brackets are made of solid beech wood, with a maximum weight capability of 264lbs.
Designed clip-in frame connection, top and bottom brackets detach from the chair.
The arcuated top bracket on the chair back may be transformed into a carry handle, making the wood chair portable.
There includes a compression stuff bag for storing this folding chair, making it a portable camping chair for all your outdoor activities such as hiking, fishing, or leisure trips.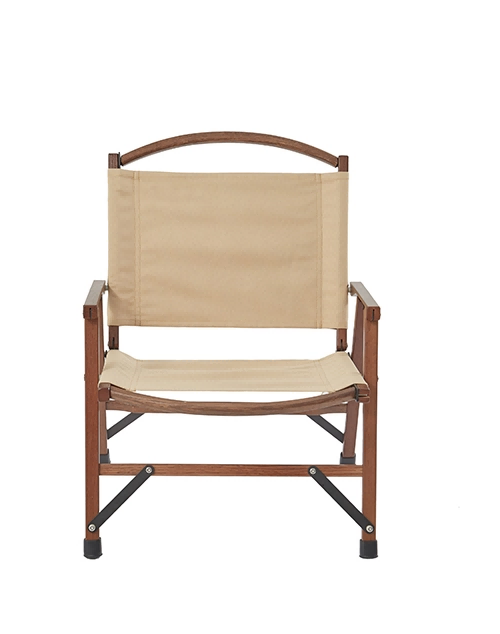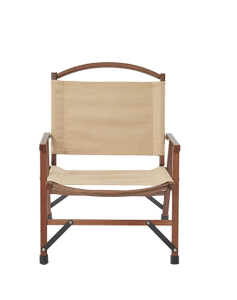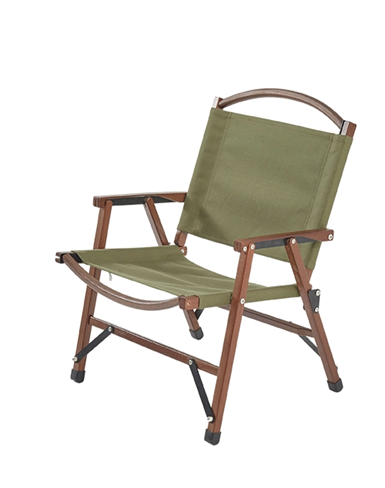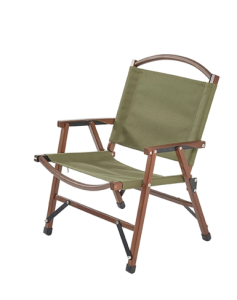 | | | | |
| --- | --- | --- | --- |
| Model | LF5002 | Fabric Material | Beech wood |
| Unfold Size | 52x49x66(h)cm | Frame material | 100% Polyester |
| Fold Size | 57x20x9cm | Static Bearing | 120kg |
| Weight | 2.3kg | Color | Customized |
Lightweight Camping folding Chair/Beach Chair in Kermit Style with Wood Armrest
The chair is made of strong 600D PE fabric that is water-resistant and simple to clean.
The chair's high seat design allows for comfortable sitting and standing, and it is suitable for both slender and large men.
There is no need for assembly and the folded thickness is only 7cm.
This foldable chair can be used for a variety of occasions, including automobile camping, weekend picnics, concerts, festival gatherings, terrace resting, and so on.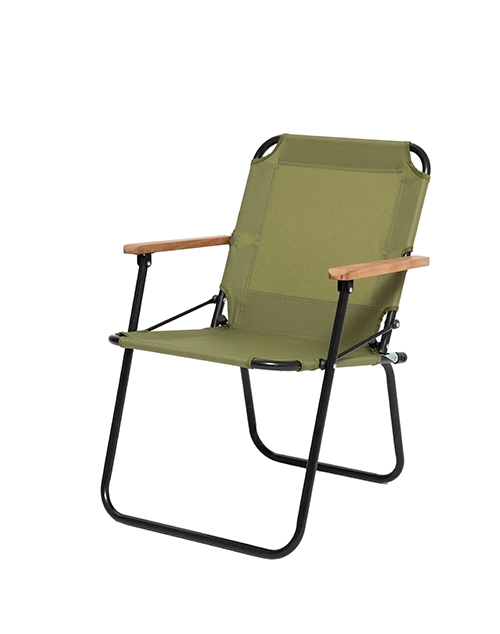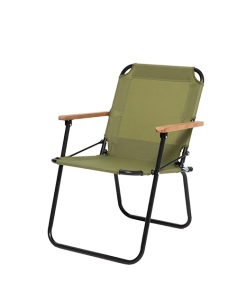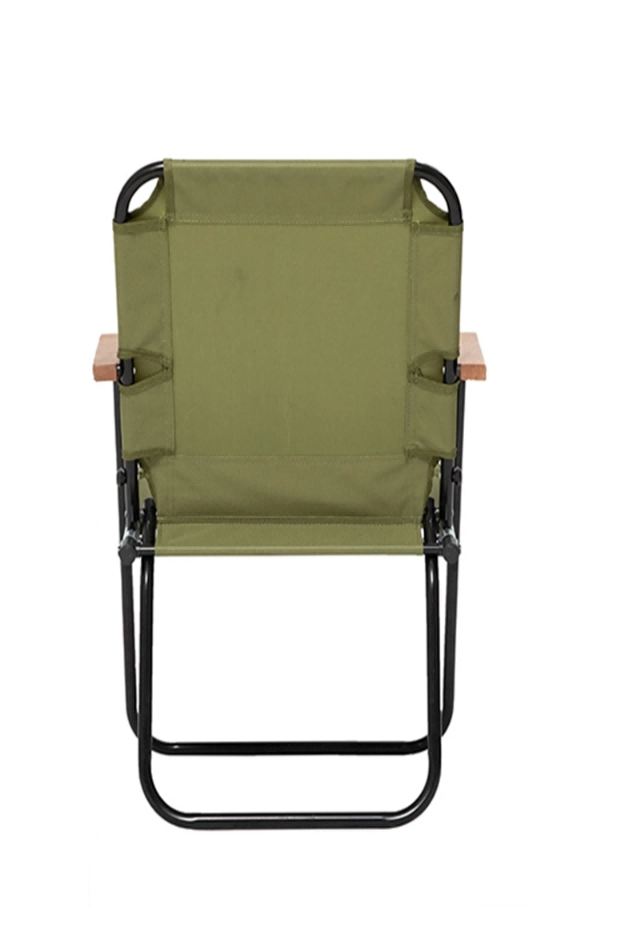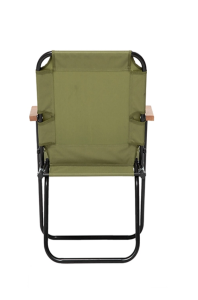 | | | | |
| --- | --- | --- | --- |
| Model | BD12112801 | Frame material | Iron pipe |
| SUnfold Size | 55x48x75(h)cm | Fabric material | Polyester |
| Fold Size | 58×7.5×54(h)cm | Static Bearing | 100kg |
| Weight | 2.7kg | Color | Customized |
Conclusion
Folding camping chairs are available in a number of sizes, and understanding these sizes is critical when choosing the correct chair for your camping trips. When selecting your choice, consider the size, weight capacity, seat height, and mobility. By doing so, you can guarantee that your camping chair enhances your outdoor experiences while also providing the comfort and convenience you want when communing with nature. If you want best folding chairs visit our website https://www.deermaple.com/