Titanium utensils Eco-Friendly Coffee Spoon, Spork and Spoon Set for Camping
Titanium utensils is chemically stable, light and not easily damaged, making it a rational tableware material
Titanium cookware set  can inhibit the growth of bacteria, harmful bacteria are not easy to breed, easy to clean
For this Titanium utensils great for camping, lunch, and dinner on the go, backup utensils in car and office.
Model Number
DM-T005
Material
Titanium
Size
fork:Φ160x22mm

spoon:Φ165x37mm

knife:Φ186x16mm

Finish
crystallized surface
Weight
41.3g
Color
Gray
Logo
Customized
Package
Meshbag&colorbox
Titanium can withstand high temperature open fire, not easy to deformation, can be high-temperature disinfection, can be washed with dish-washing machine.
Titanium cookware set with Surface sandblasting design, more uniform color, not easy to leave fingerprints
Titanium utensils set added the lock design, through the handle of the round hole, connected tableware, convenient storage, easy to carry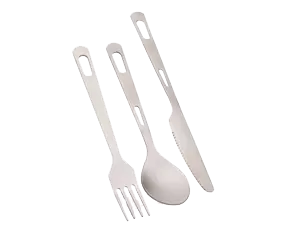 We have ISO9001, CE,FDA, etc.For more information, please directly contact sales person.
Depending on the quantity, the delivery time will be different. For more information, please directly contact sales person.
Yes,Titanium has a thin film on the surface, which is quite stable in most natural conditions and has good corrosion resistance.
Usually sent it 7-15days after your payment.